Selling Your Home While Buying a New One to Reduce Debt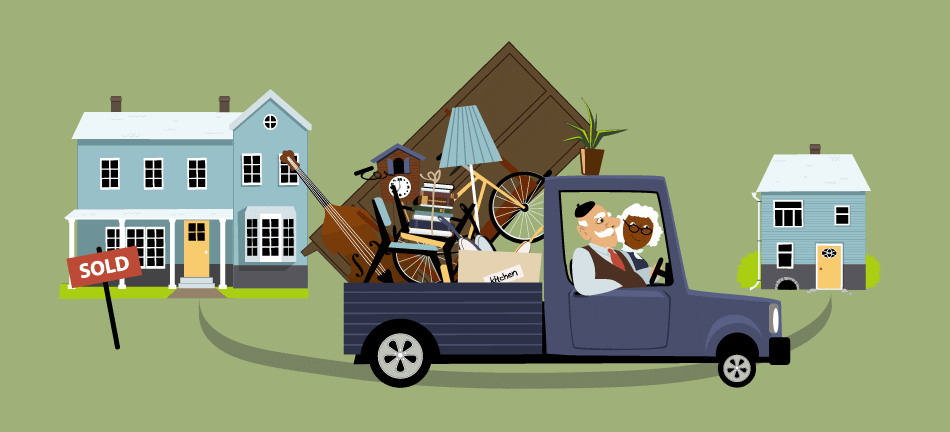 If you're in over your head with credit cards and student loans, a number of strategies can provide relief, such as a debt management plan or an aggressive debt-payoff strategy. But if you're a homeowner, you might be overlooking one more solution.
The answer to your debt woes may be to simply sell your home and buy a new one!
Selling your home to buy a new one can mean that you trade your present house for a smaller or less-expensive one or at least a home with a lower mortgage than your current one.  For instance, after selling your home you can use the proceeds to pay off your debt while using the remainder for a downpayment on a condo, townhome, or home in a less expensive area.
When you do this successfully, not only do you reduce your mortgage debt by taking on a less-expensive home, you might also have enough cash left over to pay off your other debts, such as a student loan or credit card. Selling while buying a replacement home also may reduce your monthly mortgage payment — that leaves extra cash in your bank account each month to deal with other needs.
If you own your house outright, selling it and buying a less-expensive one allows you to purchase a new home and pocket the difference!
For retirees hoping to stretch their savings, this can be an invaluable retirement strategy, freeing up money so they can live more comfortably.
What Is Required to Sell and Buy Concurrently?
Selling your home to buy a new home is a two-part transaction: You must sell your current property and buy a more affordable one. This requires both a financial and lifestyle adjustment — along with the financial benefit comes the necessity to live much more efficiently.
If you have a mortgage balance, and your goal is immediate debt reduction, you also need sufficient home equity — the difference between your home's market value and the current mortgage balance — to come out of the deal with adequate cash. In a best-case scenario, you would have enough equity in your property to cover the down payment on the new home and also pay off your other debt balances in full.
Potential Challenges
Selling while buying may seem simple on paper, but you can run into a few obstacles along the way. One challenge may be getting a lender to approve you for a mortgage at a new house while you're still obligated at the original home. The lender will want to see that your current home is at least on the market or possibly already in escrow with an estimated close date.  I have gone this route many times before for my clients…it's not as hard or complicated as it may sound!
It helps to put your home on the market as soon as possible and start looking for a replacement home to get the ball rolling.  You'll need to get as many buyers as possible to see your home in order get it in escrow for top dollar in a relatively short amount of time.  It helps getting qualified for a new home and also makes your offer on your new home srtronger if you can show your current home already has a buyer in escrow.
Although rare, an alternative is to close the sale of your current home first, and then proceed with the purchase of your new home. You can then use proceeds from the sale to put toward a down payment on your new place. In either case, it is important to consult with a lender and a Realtor (me) about this move in advance.
Another potential challenge is learning after the official appraisal that your home is not worth as much as you expected. This happens quite often! With every potential listing I take, I make sure to do a thorough price valuation and discuss it with my clients.  Pricing the home correctly is one of the most important aspects of selling your home.  Even if this were to happen, you always have options.  Typically I'd ask the buyers to come in with cash to make up the difference.  This is where it helps to have a skilled negotiator on your side! (Again…me…hahaha!)
If you still must sell and do not have the equity you thought you had, see if your lender will agree to a short sale in which you will not be responsible for the difference between the selling price and the mortgage balance. A short sale is often more advantageous for a lender than a foreclosure.  Although this is a more rare option, it's still an option if you have no other choice.
Making a Plan of Action
Now that you have a fuller picture of how to sell your home and buying a new one to reduce your debt, you'll need a plan of action.  Contact me below with any questions you may have regarding the process.  Just fill out the form below or contact me anytime!